Accountants: automate and integrate to make home-working work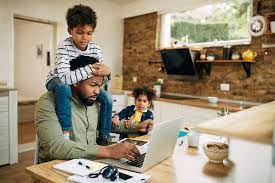 After a year of enforced home-working, many accountancy firms are now considering a blend of home and office as a long-term aspiration. Firms with truly integrated systems and truly automated processes are going to find this easier than those who are still bodging it.

One login, one search bar, one version of the truth, wherever you are – that's what it's all about. AIRPA can provide that and bring your practice's data together even when your team members are hundreds of miles apart.

It feels odd to be talking about home-working more than a year on from the first national lockdown. As we waved goodbye to colleagues last March saying, "See you in a couple of months!" few of us expected this to be dragging on well into 2021.

But, at the time of writing, the Government has changed its advice to people to start planning a return to the office, yet the latest statistics show that around 27% of the UK's population is still working exclusively from home.
Even with the lifting of restrictions, national rail services currently have about 35% of their usual passenger numbers for the time of year, with road traffic at 68%.

You might think that things have returned to 'normal' after July 2021 with restrictions lifted almost entirely. Recent news coverage suggests otherwise, however.

International accounting and consultancy firm KPMG has announced that 20% of its employees are likely to be working from home on a permanent basis and that it will only expect anyone to be in the office for an average of two days per week.

Meanwhile, a survey by the BBC suggests that 43 of the 50 biggest employers in the UK have no plans to bring people back to the office on a full-time basis.

Given this new reality, how can automation of processes and integration of cloud software contribute to making it work?
The virtual workspace
When we were reading Neuromancer in the 1980s and watching The Matrix in the '90s, we probably expected cyberspace to look a bit more exciting than the reality. But that reality, it must be said, is brilliantly functional.

Firms which had already embraced cloud accounting and digital more generally found 2020 easier than those who'd been holding out. When you, your colleagues and the client are all working with the same data, through the same interface, it doesn't matter where you are.

Those who were slower to adapt, on the other hand, perhaps found themselves hampered by their attachment to filing cabinets full of paper, spreadsheets stored on physical hard drives and desktop applications only licenced to run on a single machine in the dingiest corner of the office.

They'll have found themselves emailing files back and forth, driving into the office to scan documents, and copying and pasting from one data source to another to make things work. Additional unnecessary stress at a time when there was already plenty to deal with, from processing furlough claims to homeschooling.

Cloud accounting has revolutionised the industry, but AIRPA takes things a step further again. It gives you the power to integrate all your applications and data sources to build seamless workflows entirely online.

You can login once, with a single password. Once you've done that, you can search all your client records from one search box and see them presented on a single easy-to-read dashboard.

Our active data sync functionality means that the data you're presented with is always up to date, offering a single point of truth

Automation, not documentation
One last thing driven by the move to universal remote working is an end to processes that aren't really processes, living in documents or, worse, in people's heads.

When you're all in the office together, it's easy to shout across for advice and to rely on the same bodges and hacks, month after month. People are good at papering over the cracks.

With fewer face-to-face connections, it's become more important than ever to automate those processes properly. With AIRPA's next-level automation technology, with automatic mapping of data across systems, it's easy to create sophisticated processes that run at the push of a button. Or, even better, on a set-and-forget schedule.

That means less time wasted on repetitive tasks, greater accuracy and better client experiences.

Find out how AIRPA can improve your firm's systems and processes and make WFH feel easy.